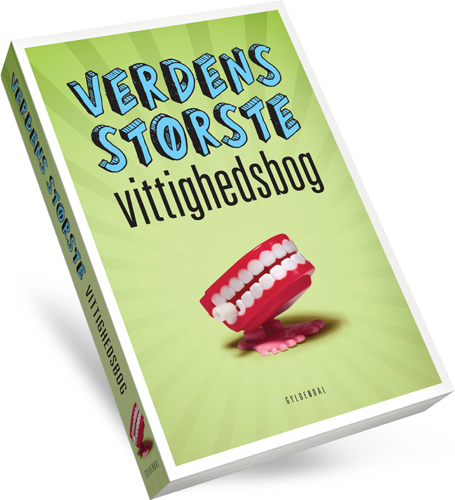 TITLE / AUTHOR
"Verdens største vittighedsbog", non-fiction book by Sten Wijkman Kjærsgaard (softcover).
CLIENT
Gyldendals Forlag, Denmark 2014
MY SERVICES
Book cover design
↓
FROM BLURB
"Have you ever found yourself desperately trying to remember a joke, any joke, just to keep the conversation going? Or wanted to wrap up a speech with a few funny remarks? The World's Largest Book of Jokes (Eng. transl.) is the answer to all your prayers."
BOOK DESIGN
How does one go about making a funny book cover? A quick browse of funny books in general will show you that it's obviously not that easy. Most joke books use a "funny" typeface or a hand-drawn caricature on the book cover. But in my opinion the results are often somewhat childish. I wanted to appeal to adult readers without detracting the final result. When I started sketching and brainstorming "funny" symbols, I quickly had more than enough ideas. Personally I have a soft spot for the wind-up dentures. I think it kind of represents the visual equivalent of canned laughter.