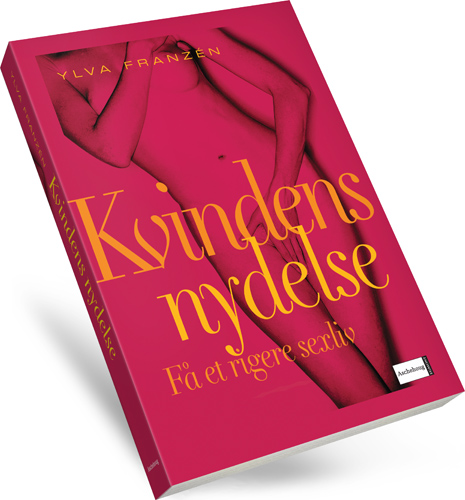 TITLE / AUTHOR
"Kvindens nydelse", self-help book by Ylva Franzén (softcover with flaps).
CLIENT
Aschehoug, Denmark 2005
MY SERVICES
Book cover design
Interior layout and illustrations
↓
FROM BLURB
"Kvindens nydelse leads the way to the many orgasms of women. It will debunk all the misconceptions of both women and men and teach them practical tips for supporting the woman towards a richer sex life."
BOOK DESIGN
Leafing through this book, you'd quickly find that it calls a spade a spade! It is a detailed instruction manual aimed at the sexual pleasure of the woman. And I wanted to show that the book is about female sexuality without being sordid or explicit. Nudity tends, in my opinion, to be a bit problematic on a book cover. While it gets the attention of the bypasser, it will often force the expression into stereotypes. So I threw myself into it. I chose this photo because it shows an independent woman standing alone. She covers herself up but stands tall. I like that it's 'in your face'. By adding the saturated hot pink, the motive is less about skin. Also it evens out the background for the typography to pop out. I changed the typeface a great deal to make it stand out.