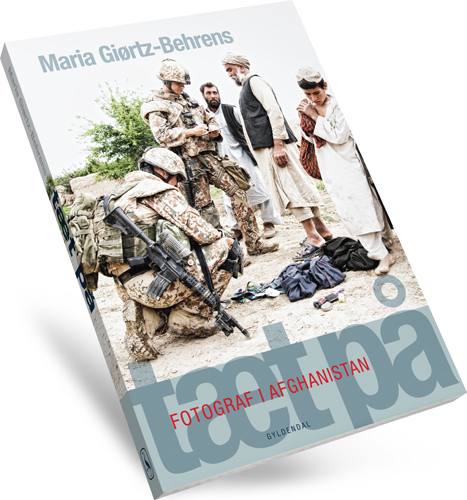 TITLE / AUTHOR
"Tæt på", non-fiction book by Maria Giørtz-Behrens (softcover with flaps).
CLIENT
Gyldendal, Denmark 2011
MY SERVICES
Book cover design
↓
FROM BLURB
"In 2010 the photographer Maria Giørtz-Behrens travels to Helmand on a photo assignment. While participating in a mission with a Danish patrol, one of the vehicles sets off a roadside bomb. In Tæt på Maria tells the story of surviving the bomb and returning to life. But also lets us glimpse into the lives of the deployed soldiers, seen though the eyes of a photographer."
BOOK DESIGN
I had an idea for a book cover, entirely consisting of a folded panoramic photo. I envisioned that by unfolding the cover and the flaps, you would almost get the feeling of being there and running the eyes over the scenery. Of course, a commercial book cover without text is a no-no. Nevertheless I aimed at creating the sensation of looking into two different scenes on this book cover. Almost all the text is arranged as semi-transparent elements within the ribbon at the bottom of the book cover. Thus the gaze of the viewer is free to explore.