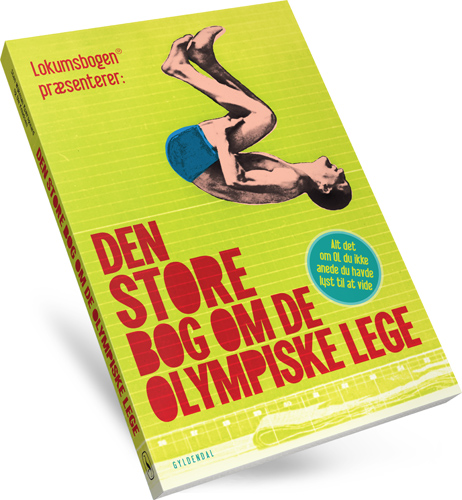 TITLE / AUTHOR
"Den store bog om De Olympiske Lege", fun fact book by Sten Wijkman Kjærsgaard and Ole Knudsen (paperback).
CLIENT
Gyldendals Forlag, Denmark 2012
MY SERVICES
Book cover design
↓
FROM BLURB
"The book is packed with fun and surprising information about both the antique Games and the modern. Cool facts, breathtaking background, strange but true stories – all is exceptionally illustrated. It's almost too good to be true."
BOOK DESIGN
"I want you to use this image for the front page!" That's not an uncommon point of departure for a book design. Only about one third of my assignments are completely open from the start. Of course there are many reasons why. But there are even more reasons to start a new assignment with a joint brainstorming. Most importantly, to get the most bang for your buck! Your graphic designer is an expert on getting ideas! Take advantage of that! This job started with a photo of Eadweard Muybridge. But the book is not so much a reference book as a collection of quirky facts about The Olympic Games. Sooo... with a little dab of color...